Welcome to the website of Holy Cross Catholic Primary School Woollahra. I hope that by using this website, you'll gain an insight into our dynamic and caring school community.
Holy Cross is a Kindergarten to Year 6 co-educational primary school located in Bondi Junction and Woollahra.
Our school motto 'Nothing Without God' permeates the life of the school. The charism of the Sisters of Mercy is central to our mission. Following in the footsteps of Catherine McAuley, founder of the Sisters of Mercy, we work in partnership with parents to provide quality Catholic education based on the Mercy values of compassion, love, justice, respect and care for all. We strive to live the Gospel values in a supportive, caring and nurturing environment that celebrates the gifts and talents of all those in our community.
At Holy Cross, we offer a curriculum that provides quality teaching and learning programs to meet the learning needs of students living in the 21st Century. Our teaching and learning programs provide a range of educational experiences that will challenge, motivate and encourage students to reach their full potential. 
The staff at Holy Cross are committed and dedicated to providing a stimulating, learning environment to cater for the individual needs of each student. We work as a professional learning team in a collaborative and supportive environment to ensure that we provide excellent teaching and learning programs that instil a love of lifelong learning and enable students to reach their full potential. 
Holy Cross gives priority to nurturing the total development of each child. We believe that if children are happy, successful learners, in a nurturing and faith filled community,  students will enjoy  a bright future in the world in which they live.  
Louise Minogue
Principal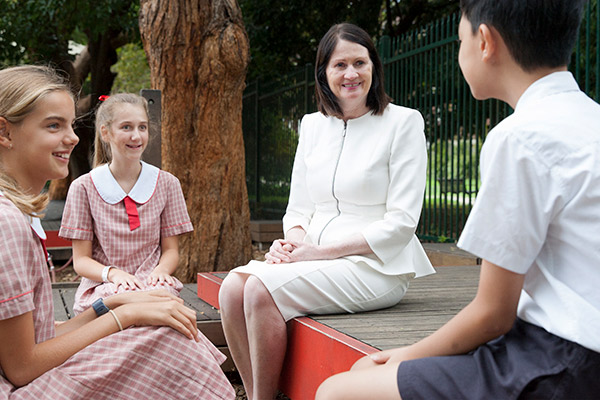 Proudly Part of the Community of Sydney Catholic Schools
Our school is part of a system of over 150 low-fee Catholic schools in the Sydney Archdiocese.
Sydney Catholic Schools are thriving Catholic communities that ignite a love of Christ through excellent teaching and learning to empower students to reach their full potential.