Our Catholic school is part of the Catholic Church. We work in partnership with our local parish and priests in order to enrich the spiritual life of the students, staff and families of our school, especially through the celebration of the Sacraments.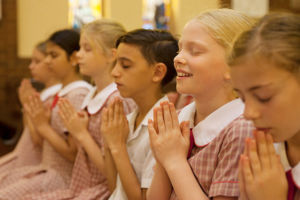 At Holy Cross Catholic Primary School Woollahra, we work in partnership with the parish to prepare children for the sacraments.
Children receive the sacraments in the following years:
First Reconciliation – Year 2
First Eucharist – Year 3
Confirmation – Years 5 and 6
Children who have received the Sacrament of Reconciliation have the opportunity to receive the Second Rite of Reconciliation as part of their class once a term. Class and family Masses and liturgical celebrations are organised each term to enrich the spiritual life of the school.